Chester Diocese is linked to the Anglican Dioceses of Aru and Boga in the Democratic Republic of Congo.
In Chester Diocese we are greatly blessed and enriched by our links with Aru and Boga Dioceses in the Democratic Republic of Congo. Alongside the Melanesian link our link to the DRC contributes to our own identity in connecting us in a real and tangible way with the worldwide Anglican Church.
The link was formalised at the time of the Lambeth Conference in 2008 with the then bishops of Aru and Boga, Ande and William. Since that date through regular visits from Chester to Congo and of key Congolese church leaders to the UK a deepening relationship and friendship has formed between the three dioceses.
From the beginning Bishop Ande of Aru diocese has stressed the link was not primarily about money, but about prayer, friendship and fellowship.
'The world is like a small village. Often the perception for Western people is that the need is for money. Whilst that certainly does help, it does not make you friends'. Bp Ande
Supporting the link
We are therefore looking for churches and individuals in Chester Diocese who would like to support this link through:
friendship
understanding
and prayer across our Dioceses.
If you would like more information drop us an e-mail and we can add you to our monthly mailing list. You can contact us at abc@chester.anglican.org
Our link is about prayer support and learning form each other developing a world wide understanding of the Kingdom of God. We are not therefore primarily about raising funds however there is great need in Congo and if through friendship you or your Church would like to make a donation it would be gratefully received and put to good use.
You can make a donation to the Anglican Dioceses of Aru and Boga through the Congo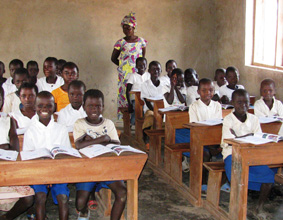 Churches Association. Follow this link and mark donations for Aru and Boga Dioceses. You can also donate to IPASC (the Christian trust founded to improve heath care in the DR Congo which works with the dioceses and teaches community heath) through their website by following this link.
Download and update here
Organisations and Partnerships
The following are links to other organisations and partnerships operating in our link diocese in D R Congo.
Aru Diocese Web Site
Aru is the northern of the two dioceses we are inked to. Check out their website by following this link.
IPASC (Institut Panafricain de Santé Communautaire et Medecine Tropicale)
IPASC is a Christian organisation and is recognized and registered as a non governmental organization in the Democratic Republic of Congo. Working in the dioceses of Aru and Boga IPASC was created in 1992 with the goal of improving the health and well-being of people of all cultures and faiths through a community determined approach. Visit their website to find out more of the vital work of IPASC in Aru and Boga.
Rooted in Jesus Course
As part of developing an ongoing link with the Dioceses of Aru and Boga, Chester has been working to introduce Rooted in Jesus training conferences. Rooted in Jesus is a group course in Christian discipleship written for use in Africa. The course is published by Resource – for further information please follow this linkto view the web site.
Congo Church Association
The Association exists to help the Anglican Church in the Democratic Republic of Congo (former Zaire). Visit their website to find out about the wider Anglican Church in Congo. We are grateful to the CCA for providing the facility to make donations directly to Aru and Boga dioceses. Donations can be made as one of gifts or by standing order.
Kimbilo
Kimbilio works with street children to the south of our link diocese in Lubumbashi. They provide support, education and training to former street children to reintegrate with their families and communities. Follow this link to the website.