Bishop of Chester - Mark Tanner
On 12 May 2020, Bishop Mark Tanner was named by Downing Street as the next Bishop of Chester, succeeding the Rt Revd Dr Peter Forster who retired in September 2019.
Of the announcement on 12 May, Bishop Mark said: "It will be hard to say goodbye to the North East, however, Lindsay and I are really excited to return to Chester where I was ordained, and both of our children were born."
Mark says: "It is an honour and a joy to be appointed to the Diocese of Chester at such a key time in the life of our communities, nation, and Church. In Christ, God offers a gift of hope beyond our imagining; there is no greater joy or privilege than enabling others to step into this freedom and life, whether in deeply practical service or beautiful wonder and worship. God is here for all."
Address: Bishop's House, Abbey Square, Chester. CH1 2JD
TEL: 01244 350864 bpchester@chester.anglican.org
Follow Bishop Mark on Twitter: @Northern_Bishop
Bishop of Birkenhead - Julie Conalty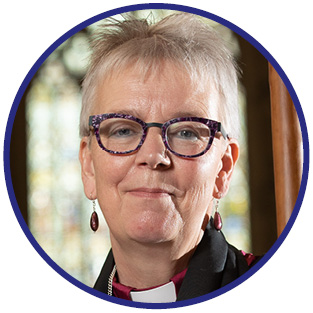 Julie was previously the Archdeacon of Tonbridge. She grew up in the North West of England but has spent the last 35 years "exiled" in the south.
She first experienced a call to ordained ministry as a teenager and when she finished school she moved to Sheffield to study for a Biblical Studies degree. Upon graduation, as women could not train to become priests, Julie found work running a homeless shelter, trained as a social worker, and began a career in the Probation Service in London. Eventually, she was accepted for ordination training and was ordained deacon in 1999 and priest in 2000.
Julie is married to Simon and they have two grown-up sons. Julie likes a beer and a takeaway curry on a Friday night and the whole family support Charlton Athletic.
Address: Pinewood, Vyner Road North, Prenton, CH43 7PZ
TEL:01244 350864 bpbirkenhead@chester.anglican.org
Follow Bishop Julie on Twitter: @BirkenheadBish
The Bishop of Stockport - Sam Corley
Before becoming the Bishop of Stockport, Sam was the Rector of Leeds, a role he took up in 2015. Previous to this, Sam was Precentor of Bradford Cathedral, Senior Chaplain to the University of Bradford, and Faith Advisor to the Lord Mayor of Bradford.
Sam read theology at the University of Durham and taught history in Surrey before training for the ministry at St John's College, Nottingham.
Sam is married to Claire, who is herself in ordained ministry within the Church of England, and they have three children.
Having spent much of his childhood working on a farm, Sam also has a deep love of the countryside and nature.
Address: Bishop's Lodge, Back Lane, Dunham Town, Altrincham. Cheshire WA14 4SG
TEL: 01244 350864 bpstockport@chester.anglican.org
Follow Bishop Sam on Twitter: @SamCorley10