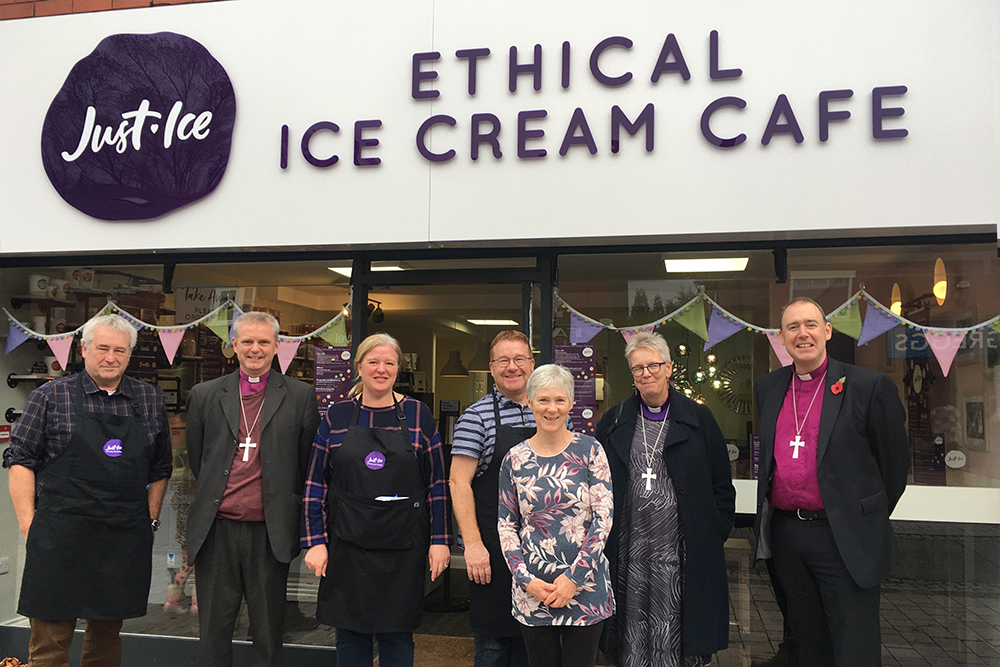 When Jo Rodman (3rd from left) first began thinking about her calling to God, little did she know that it would lead her down a path that would result in her setting up an Ice Cream shop in Poynton called 'Just-Ice'.
We first reported on Jo about a year ago during the early stages of 'Just-Ice', a social enterprise whose aim was to help survivors of modern slavery. They first began doing this by selling ice cream from a humble three-wheeled bicycle. A shed in her back garden housed an industrial freezer for the ice cream. It was all run on a bit of a shoestring budget but Jo had aspirations of selling more ice creams along with drinks and a larger variety of food. Primarily, she wanted to create a place that would also bring people in the community together, which is how she came to set up the 'Just-Ice cafe on Poynton high street. You can read more about it here.
In the months since Just-Ice opened, the cafe has indeed been making great inroads into creating a community space for people. A few ladies from St George's in Poynton decided to start a weekly 'drop-in coffee morning each Friday when they would reserve a single table for themselves and anyone who wanted to join them for a chat. The idea proved so popular with the locals that the group now reserve three tables. Jo explained that making people welcome in this way helps to tackle loneliness and build friendships.
Just-Ice has also employed a cafe manager in the last few months. Lee Hardy is a former primary head teacher now turned ice cream expert and slavery campaigner. He has visited three schools in the area to talk about slavery and the goals and ambitions of Just-Ice. As a result, nine classes from one local school are going to celebrate the end of their jubilee trail walk with a visit to Just-Ice.
Perhaps the biggest impact that Just-Ice has had on the victims of modern slavery is that they have taken on three survivors to work in the cafe, who are from Sudan, Vietnam, and Ethiopia.
Jo said, "We like to think that Just-Ice brings a really valuable sense of community to the Poynton high street, where people of all faiths and none can meet and enjoy a drink and a bit of ice cream and learn a little bit about our God of love and justice. We want to continue to help and support more survivors of modern slavery and grasp Christian outreach opportunities and develop relationships with more schools in the area."
Just Ice is currently recruiting for a cafe assistant. Find out more from the Just-Ice website
If you'd like to know more about Just-Ice you can contact Jo via jo@just-icepoynton.org.
---
Do you feel Called to Serve
If you'd be interested in learning more about how God might be calling you then Sarah Fenby, our Diocesan Director of Vocations, will be happy to talk with you.
Her contact details are below.
Diocesan Director of Vocations and Residentiary Canon: Revd Canon Sarah Fenby
M: 07714 587250 E: ddv@chester.anglican.org