The Government wants to make divorce easier. Do we bemoan the watering down of what should be a lifelong commitment for "better or worse", or be encouraged that people can now more easily break free from a loveless marriage?
The good news is that divorce rates for opposite-sex couples in England and Wales are at their lowest level since 1973, which is around forty per cent lower than their peak in 1993. However, there will still be an estimated 100,000 divorces in 2019, of which an increasing number will be among older people. How should the Church respond?
Mark and Helen Tomlinson worship at St Mary's, Cheadle, and got married after they both reluctantly experienced painful divorces. Mark and Helen both hold on to Romans 8:28 as a source of inspiration:
"And we know that in all things God works for the good of those who love him, who have been called according to his purpose."
Today they are finding ways to turn a painful experience into something that can help others.
Mark says: "After 23 years of happy marriage, my wife returned from a trip to Australia to see an elderly friend and revealed to me that she was having an affair and wanted a separation."
"Over the next two years we tried counselling; I wanted her to show some repentance, it never came. I would have stayed with her for the rest of my life because of the vows I took when I married her, but I knew I had to move on, despite the inevitable sadness. We got divorced in 2007."
Helen's experience was similar: "I was married for over 20 years, but it was always a marriage of compromise. He had an affair and chose to leave me. The rejection was very hard and very painful to go through."
They say they both know what betrayal and deceit feels like and that it was their faith, family and church family that helped them deal with the pain of separation and divorce. God was their strength.
Helen says: "I had to go through a bitter, complex financial battle. I was frightened and was expecting the worst. I said, 'God please, I put this in your hands.' Thankfully I came out of it OK in the end."
Helen and Mark met many years later after mutual friends introduced them to one another. Their blossoming friendship grew into something more over time. They travelled together on a Christian mission trip to Kenya in 2014 and it was here that Mark proposed, convinced of God's involvement and that it was his will for them to be together. They married a year later.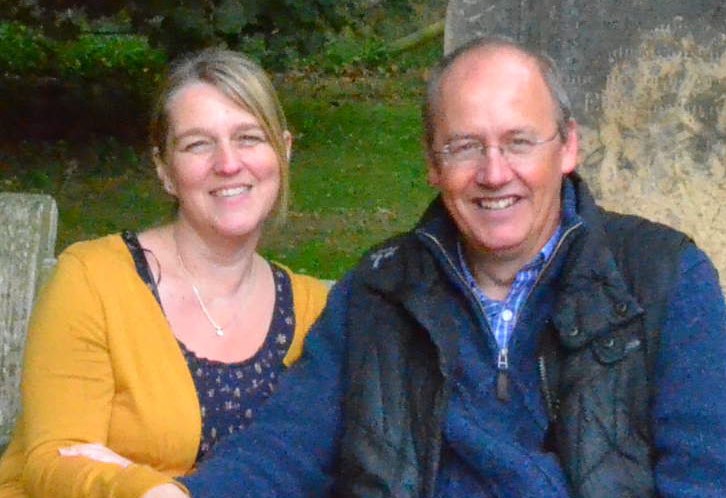 Mark and Helen Tomlinson married in 2015
Now living together with a blended family, they are making the most of their God-given experiences to turn pain into loving service for others.
"We wanted to use the experiences and the pain we'd been through to help others," Helen says. "Despite being broken by divorce, we can see that God was with us. He put others who had experienced the same difficulties into our paths for us to heal and support."
Knowing their background, one of their ministers asked whether they would give some thought to doing something for those going through divorce and separation. There didn't seem to be anything out there in a formal sense.
Mark says: "I remember that we prayed a lot for God's guidance of how to approach this challenge. Of course, it's always OK to say kindly to someone, 'I know how you feel', but it's very different when you truly have experience of it…the difference of how powerful that is; experience changes the way you can talk to people."
Filled with confidence from this encounter and opportunity to help someone in need, Mark and Helen continued to pray together and grow with God.
"We were praying one Sunday morning and then this advert in a Christian magazine just kind of jumped out at us," Helen says. Exploring it further, they discovered Holy Trinity Brompton, an Anglican church in London best known for creating the Alpha course and the Marriage Course, had developed a course called Restored Lives designed specifically for those facing divorce and separation and offering a future with hope.
Helen says: "We approached our ministers and explained where we thought God was calling us to. Our church family were very supportive and offered to pay for us to attend the conference and the training. From attending the conference to running the course in our parish church took 18 months."
Helen says her background in nursing and pastoral conversations, and Mark's gift for administration and leadership skills have helped them along the way. They are a complementary match.
Mark says: "God has made running this course easy. He has put people in our pathway who have expertise to share, and experience of the pain of divorce and separation. The team has been truly amazing. We came across and contacted Christians Against Poverty (CAP) for advice on budgeting, family workers have come to help with family communication, and if any major issues arise, we always have details of relevant professionals to signpost people to."
The course is for people going through separation or divorce and is offered to people of all backgrounds, whether they have faith or not.
"The course has a biblical foundation but isn't evangelistic. We're open about our faith and we pray for the people we meet, but there is not a requirement to have faith to attend. We simply want to support people who are going through what we went through; we want to share our story and help others." Mark says.
Mark and Helen completed their first course last November, where they had 14 attendees. All responded positively about how the course had helped them to cope with their personal situations and move forward with hope. They will be running their second course in May/June 2019.
There are regular conferences in London for anyone who is considering running the course in their own parish. Mark and Helen say that it's their experiences that have enabled them to help others. Helen says, "the support network at Restored Lives is brilliant, but you need the first-hand experience of separation and divorce otherwise your credibility might take a hit. If you know the pain of divorce and betrayal, then God can still use you."
Follow this link for details of the next Restored Lives course at St Mary's, Cheadle or email Helen and Mark if you have a question or a query.
If you want to run your own course, find out how.