Exploring Faith Matters
A learning programme providing an opportunity to explore the scriptures and the Christian faith in a way which helps people make sense of their day to day experience.
The b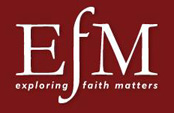 eauty of the course is that people meet in each other's homes in groups of 6-8, sharing fellowship worship, study and reflection. It is particularly good for those who want to take a serious look at their faith and life; it is solid food, not spiritual milk (1 Cor 3.2).
For more information on EfM, click here
To register your interest in an EfM course, contact Jane Hood by email or phone 01928 718834 ext 257
Pilgrim: a course for the Christian journey
Pilgrim is a major new teaching and discipleship resource from the Church of England that explores what it means to travel through life with Jesus Christ. A course for the twenty-first century, Pilgrim offers an approach of participation. Enquirers are encouraged to practice the ancient disciplines of biblical reflection and prayer, exploring key texts that have helped people since the early Church.

Pilgrim is made up of two parts: Follow and Grow. Follow introduces the Christian faith, while Grow aims to develop a deeper level of discipleship.

Assuming little or no knowledge of the Christian faith, Pilgrim can be used at any point on the journey of discipleship and by every tradition in the Church of England.
Pilgrim was written by Robert Atwell, Stephen Cottrell, Steven Croft, and Paula Gooder.
Register your interest in the course at www.pilgrimcourse.org