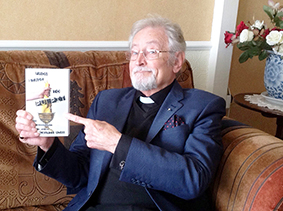 Revd Lawrie Adam has just published his autobiography.
The son of a Scottish coal miner, Lawrie worked as a salesman in a drapery store until his ability with his accordion resulted in him winning an appearance on a national TV talent show.
He went on to broadcast on BBC Radio, presented TV programmes for ITV and directed more than 200 programmes. He toured Canada and the U.S.A. appearing at the famous Carnegie Hall, New York.
In 1976, whilst appearing with comedian Ken Dodd, Lawrie Adam experienced a religious conversion. He was ordained, in 1982, into the Church of England. In 2000, he was voted finalist in "Preacher of the Year."
Lawrie said: "Sir Ken Dodd and I had the same theatrical agent until I left show business after 25 years, to answer my calling to the ministry. However, we kept in touch and he said 'Lawrie, your story must be told, write a book.' He intended writing the forward but sadly, became too ill. He telephoned me from his hospital bed and we had a sad farewell chat and a prayer.
The book tells of my life in a culture which has now vanished and explains my conversion experience. I am now retired (but still busy filling in for clergy vacancies etc.,) I am a member of St. Cuthbert's Church and live in Cheadle."
His book, From Stage to Pulpit, is on sale now. A percentage of the profits are going to 'Children and Cancer' charity. Should anyone want a signed copy they can contact wendybyrd62@gmail.com