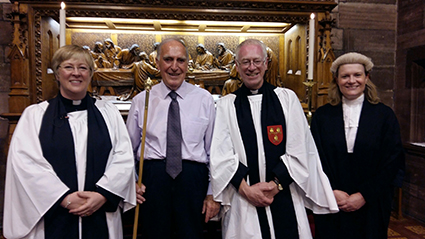 A great record of service to the local church and community was commemorated at one of this year's Archdeacon's Visitations, which took place at St Wilfrid's Grappenhall. Gordon Berry was standing down after fifty consecutive years as churchwarden in the parish. To mark the occasion, Gordon was presented with a specially-commissioned churchwarden's stave.
Gordon first became a churchwarden at St Wilfrid's in 1968, when the then rector, John Roberts, encouraged him to 'give it a go.' Since then, Gordon has worked with five rectors, including the present rector, Jane Proudfoot. Jane said 'Working with Gordon is wonderful. He is a great man, and a great friend, who is always looking to the future for the church and has an amazing capacity for change and adaptation. Gordon is a figurehead in our church, so many people know and love him and it seems that he knows everyone.He makes sure that everyone has a warm welcome.'
Asked to comment on the reasons for his length of service Gordon commented, 'It just sort of happened really but I have enjoyed every minute of my time as Churchwarden. Serving God by looking after people in the parish has given me so much pleasure and satisfaction over the years.'
The picture, taken at the Visitation Service, shows (left to right): Jane Proudfoot (Rector of Grappenhall), Gordon Berry, Michael Gilbertson (Archdeacon of Chester), and Lisa Moncur (Diocesan Registrar).