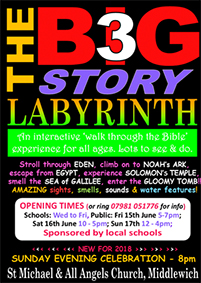 Every year St Michaels Middlewich invites six local primary schools to contribute to an art installation in the church building for the duration of the FAB (Folk & Boat) Festival.
Every third year (2012, 2015 and 2018) they put together a mega multi-sensory experience of literally 'Biblical' proportions for the town to enjoy; weaving together a maze of tunnels, caves and open spaces depicting some of the main Bible stories and themes and filling the entire church building!
People can stroll through the Garden of Eden, Climb aboard Noah's Ark, Escape from Egypt, be in awe of Solomon's Temple, smell the Sea of Galilee in the flooded chapel and enter the Gloomy Tomb with a 7ft stone to roll away!
2500-3000 people are expected to attend. The Labyrinth is open to the public on Friday 15th June (5-7pm), Saturday 16th June (10-5pm), Sunday 17th June (12-4pm).