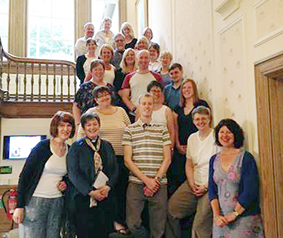 A happy day was had on Saturday 2nd June as 17 Deacons were priested at 5.00pm in Chester Cathedral at the annual Ordination of priests service. 2 Deacons were priested later at St John's Hartford. The cathedral was full to capacity with friends and family and it was wonderful to have so much support from the parishes around the Diocese.
Before the service the deacons spent 3 days at the Diocesan Retreat House, Foxhill in Frodsham preparing for their big day. This year's retreat was led by Selection Secretary for Ministry Division, Revd Catherine Williams whose theme was 'Taken, Blessed, Broken and Given' and who was also the preacher at the service.
Pictured are all the ordinands on their retreat with the DDO, Rev Magdalen Smith, ADDO, Rev Lorraine Reed and the Retreat Leader, Rev Catherine Williams.