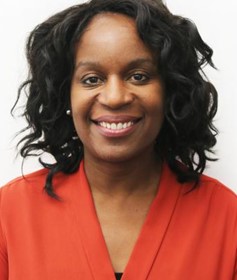 The Revd Dr Sharon Prentis has been confirmed as a key note speaker at the Clergy Gathering 2022.
Ordained in 2010, Sharon has been primarily a theological educator specialising in contextual theologies and working in church mission.
She has a keen interest in exploring the relationship between faith, community well-being, and promoting inclusion.
This interest has led her into leadership roles such as National Deputy Director for Research and Development at The Salvation Army; Intercultural Mission Enabler and Dean of Black and Minority Ethnic Affairs for the Church of England, Birmingham; and in 2021, she was announced as the new Dean of Ministry at St Mellitus College.
She says: "My heart is to see the Church embrace the whole people of God so that all can fully participate in what God is calling us to be at this time".
Sharon will be addressing the conference on Tuesday 17 May focussing on 'What are we being called from?' with regards to our current context.
Chair of the Clergy Gathering planning team, the Revd Emma Handley, says: "We're delighted Sharon is able to join us for the Clergy Gathering 2022. I'm excited to hear what she will speak about in relation to faith and community in a post pandemic world."
The conference will take place between 16 and 19 of May 2022 at Hayes Conference Centre, Swanwick, Derbyshire.
Hundreds of clergy are expected to attend what is promised to be an "opportunity to be resourced, refreshed, and recharged".
The conference will base much of its teaching around Mark 1:14-18 and will pick up on themes such as 'Drawing near to God'; 'What are we being called from?'; 'Repentance – what do we need to leave behind?', and 'So go! – recasting the net'.
Booking is essential for the Clergy Gathering 2022 but has not yet opened. Further details will be announced on the diocesan website and E-Bulletin.