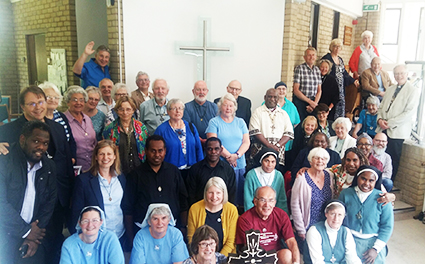 There was a joyful celebration at Foxhill on 16 June to mark thirty years of the link between the Diocese of Chester and the Anglican Church of Melanesia. Supporters from within the diocese were joined by some special guests from Melanesia: Brother Nelson (Head of the Melanesian Brotherhood), Brother Michael (Head of the Tabalia Section of the Brotherhood), Sisters Priscilla and Mary-Gladys from the Sisters of the Church. The Revd Richard Carter, from St Martin-in-the-Fields in London, who spent fifteen years as chaplain to the Melanesian Brothers was also with us.
We heard accounts of how the link began back in 1988, partly through the initiative of +Michael Baughen, and how the story of the link has unfolded over the last thirty years. Personal visits, educational exchanges, schools links and sustained prayer have all been part of the picture. Richard Carter spoke movingly of the martyrdom of the seven Melanesian brothers in 2003, and how this diocese had provided much-valued support at that time. We were also reminded of the establishment of Chester Rest House in Honiara, funded largely by this diocese, income from which now sustains 60% of the activities of the Melanesian Brotherhood. There was a Melanesian Eucharist with Bishop Willie Pwaisiho from our diocese as president and Brother Nelson as preacher.
The link is thriving in both directions, with several new schools partnerships in prospect, and a mission visit from the Mothers' Union in Melanesia planned for the autumn. We look to the past with thanksgiving and to the future with confidence.
A letter from George Takeli, Archbishop of Melanesia, who visited Chester last year, was read out in which he wrote:
"Warm greetings and our unceasing prayers for God's blessings on your gathering today to celebrate the 30th anniversary of the mission link between the Diocese of Chester in UK with the Anglican Church of Melanesia. Any such partnership link is always conceived and born out of true love and friendship for mission work to spreading the Good News of Jesus Christ to people within our churches and the Anglican Communion.
"The growth in the partnership link between the Diocese of Chester and the Anglican Church of Melanesia in the past 30 years has borne strong testimonies shown through friendship and mission work, annual financial support, exchange of staffs, training members of our religious communities (one is now a Bishop), and support to different development projects in our church.
"I am pledging my support to grow this mission link between our churches in future."