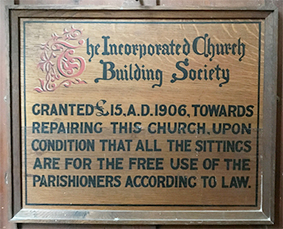 2018 marks the 200th anniversary of the Incorporated Church Building Society, set up in 1818, which helped to build and enlarge many hundreds of Anglican churches.
14,000 grants were given to churches all over England and Wales, including over 400 in the Diocese of Chester. Churches helped include the rebuilding of St George's Kendal (1827), the enlargement of St. Andrew CREWE in the (1960), and the building of St. Luke, Dunham on the Hill in 1859. (Yes, Kendal was part of Chester Diocese back then). You can see if your church received a grant by following the link below).
The Incorporated Church Building Society was at the forefront of the battle for free pews – it funded over two million pew spaces, most of which were free seats, in contrast to the then customary provision of private pews. The work of the Society continued through the nineteenth century and well into the twentieth. In 2013 Parliament and the Charity Commission agreed changes to the rules of the Society, bringing affairs under the National Churches Trust. Today the National Churches Trust supports church and chapel buildings of all denominations throughout the UK.
Historic signs - did you get a grant?
Churches awarded grants from the Incorporated Church Building Society had to acknowledge its financial help by displaying a special sign in their building. Many of the historic plaques survive to this day. Anyone with a photo of an Incorporated Church Building Society church can post it on Twitter using the hashtag #ICBS200 You can find out if your church was helped by the Society by visiting www.nationalchurchestrust.org/was-your-church-helped.
Evensong thanksgiving invitation
Tickets are available to anyone from the Diocese of Chester for a special service of Evensong to mark the anniversary which will takes place at St Paul's Cathedral on Tuesday 26 June at 5pm. The Archbishop of York, the Most Reverend John Sentamu and HRH The Duke of Gloucester will be in attendance. They will be joined by special guests including author Bill Bryson, and journalist and broadcaster Huw Edwards, both Vice-Presidents of the National Churches Trust, which today carries on the work of the Incorporated Church Building Society. You can obtain free tickets for the service of Evensong by visiting www.nationalchurchestrust.org/200-years-incorporated-church-building-society.